Excuse me if I sound a touch delirious. With natural beauty as base, deep notes of champagne, accented with good food and wrapped in history, the Champagne-Ardenne region of France creates a cocktail of experiences that leave you deliciously giddy.
By Shubhra Krishan
I am still hung over from Champagne; as in the place called Champagne. Formally, this champagne producing region is called Reims Champagne Ardenne. Informally, think of it as mile upon mile of emerald vineyards, gallon upon gallon of the world's finest champagne, and memory after lingering memory that you will carry in your heart forever.
And guess what: all of this lies just a heartbeat away from Paris!
Every 37 minutes, a train departs Paris for Reims Champagne Ardenne. Hop into your TGV coach, and minutes later, the view from your window changes from crusty buildings to wide-open fields. Some 45 minutes later, you are deposited at the station, from where the city is just five kilometres away. Pick up your rental car here, and get ready to coast across a slice of paradise. Note: Leave all your stresses and tensions here, you won't need them as long as you are in this region.
I arrive at the station at about 11.30 on a bright April morning, and despite a sumptuous croissant-coffee-cake breakfast in Paris, the hunger pangs have begun hitting again. (In France, you are always well-fed, and always hungry for more!) But when you are in France, the wait for good—make that gourmet—food is never more than a few metres away.
The Brasserie Le Jardin Les Crayères is located just a few minutes from the station.
Its landscaped grounds set the tone for the fresh, sophisticated fare that awaits you inside.

Starting with the champagne and the warm bread served with salted and unsalted butter, to the pasta with shavings of black truffle, this beautiful dining room with large glass-paned windows is deservedly a two- Michelin star winner.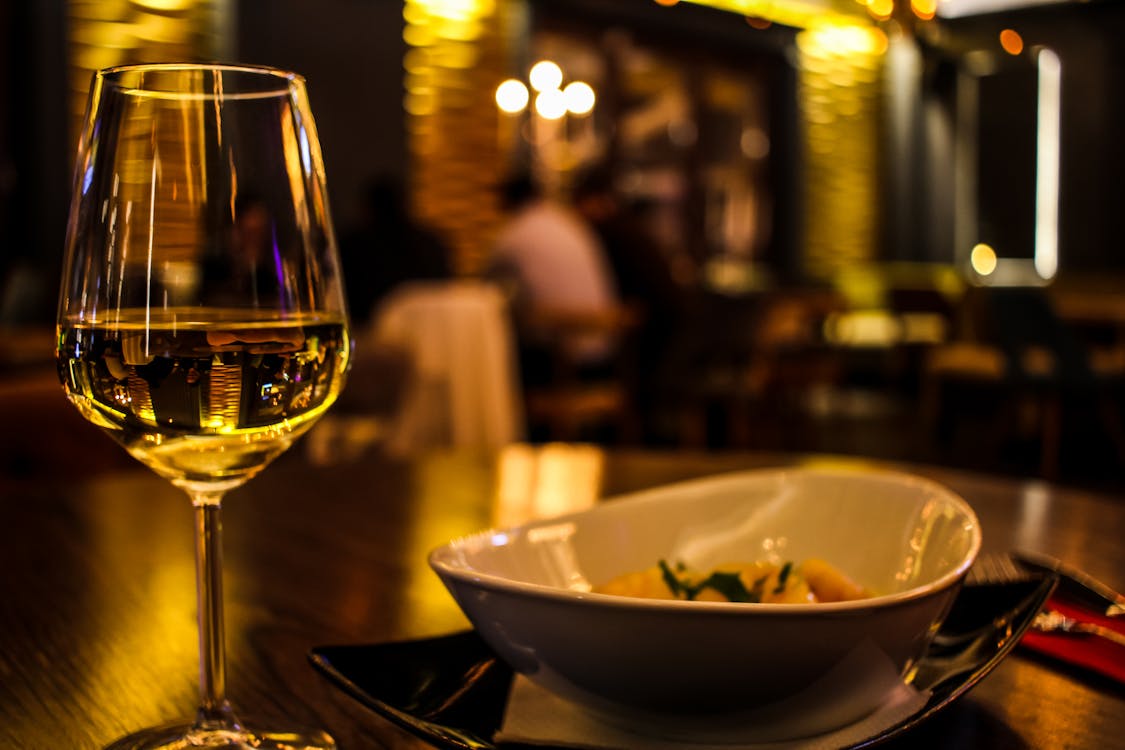 Sated and pleasantly dizzy from the afternoon tipple, we head out toward a forest in the distance. En route, my pleasant guide informs me we are heading toward a bar that can claim its place among the world's most unique. What? More champagne? Mais oui! She cheerfully informs me that for the three days I am here, I can expect to be tipsy!
So, think back to the best, quirkiest bar you have been to. You come back talking about the ambience and the music, but seldom do you hear someone say, "Oh my, what a location."
Perching Bar's simple USP is its location–on top of a tree!
Our car crunches its way inside the forest, and halts outside a small cabin. We alight, then climb a mildly jiggly wooden footbridge to reach Perching Bar.  Perched at a height of 18 feet, which is more than thrice as tall as I am,  the wooden bar is a smart, compact affair, but once you take your seat outside and a glass of champagne has been placed before you and you are watching the sun slide down the Champagne plains and you can hear the birds chirp, you realise you are as close to earthly paradise as it is possible!
Note: The wine list here offers a selection of champagne from the great champagne houses of the region. You can clear your head later; indulge for now!
Speaking of champagne houses, the mind boggles at their range and scale and elegance! We take a tour of  The House of Mercier in the town of Epernay. A lift takes you 30 metres below the earth.
You now hop on to a miniature train that winds around the damp dark cellars suffused with the heady scent of champagne.  It is like experiencing an architectural theatre with a whiff of history. Afterwards, you taste a flute of House champagne.
Some fascinating facts about the tour:
Eugène Mercier began constructing the cellars in 1871. it took him six years to build the 18-kilometre tunnels.
Always a showman, Mercier would give visitors tours in carriages pulled by four horses.
The Mercier cellars are among the most celebrated in France, and receive more than 100,000 visitors a year.
In the main hall, you will see the "giant wine cask," said to be the world's biggest!
With its dramatic red and grey interiors and relaxed vibe, Le Theatre is a superb Michelin restaurant in the heart of Epernay. Fresh seasonal cuisine, best enjoyed with–what else, champagne!
Sleep is sweet and deep when your head is filled with so many exquisite experiences, not to mention wine, and Hotel Jean Moet, a cosy boutique hotel in the tiny town of Epernay, offers cocoon-like comfort.
The owners greet you with smiles and are eager to help you with anything from satisfying a sudden craving for croissants to prising open a stuck bathroom door close to midnight! (Word of advice: in foreign lands, make sure you carry your cellphone into the bathroom every time. You never know!)
Early next morning, I stroll through the town of Epernay, which as the lovely  Sarah Flook remarks, "lives and breathes champagne."
The streets are lined with champagne bars and stores. Florists are setting up shop. The sun sends its first glint on a shopfront.
It is time for another day of discovering the hedonistic pleasures of France.
This story is from our 2015 archives. Some of the information may have changed since then. Check before you travel.
Travel Secrets magazine was hosted in France by
Atout France – France Tourism Development Agency in partnership with :
Rail Europe India
Paris Convention and Visitors Bureau
Champagne Ardenne Tourism